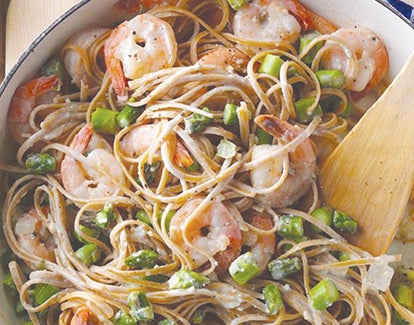 ASPARAGUS SHRIMP LINGUINE
Ingredients:
    6 oz. uncooked whole wheat linguine
    1 lb. fresh asparagus, trimmed and cut into
    1/2-inch pieces
    2 T. olive oil
    1 medium onion, chopped
    1-1/2 lbs. uncooked shrimp (26-30 per pound), peeled and deveined
    4 garlic cloves, minced
    1/4 c. reduced-sodium chicken broth
    4 wedges The Laughing Cow garlic and herb Swiss cheese
    2 T. lemon juice
    1/4 t. salt
    1/4 t. pepper
    1/4 c. grated parmesan cheese
1. In a large saucepan, cook linguine according to package directions, adding asparagus during the last 3 minutes of cooking.
2. Meanwhile, in a large skillet, heat oil over medium-high heat. Add onion; cook and stir 6-8 minutes or until tender. Add shrimp and garlic; cook 2-4 minutes longer or until shrimp turn pink. Stir in broth; cook over medium heat 1-2 minutes or until liquid is almost evaporated. Add Swiss cheese, lemon juice, salt and pepper; stir until cheese is melted.
3. Drain linguine and asparagus, reserving 1/4 cup pasta water. Stir linguine and asparagus into shrimp mixture, adding enough reserved pasta water to moisten pasta. Sprinkle with parmesan cheese.
Recipe by www.tasteofhome.com