Moving forward: 2020 year in review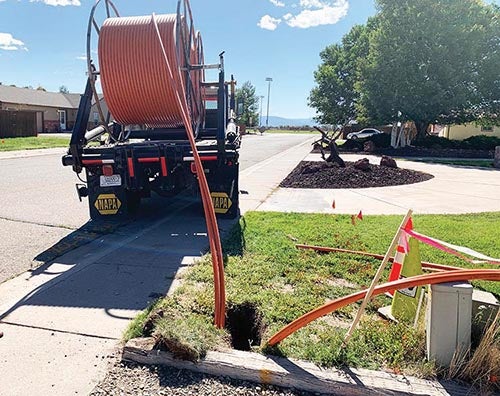 This past year, 2020, was a trying year for many including San Luis Valley REC and Ciello, but like most REC and Ciello forged onward and finished the year with numerous successes.
On the electric side of the business, REC upgraded the Supervisory Control and Data Acquisition (SCADA) equipment at three substations which allows real time monitoring, alarming and control. This SCADA equipment improves reliability and reduces outage times by providing information about outage events and remote control to assist crews with restoration and switching.
Transformers at substations are crucial pieces of equipment on REC's electric system and to ensure continued reliability, transformers at two substations were tested in accordance with REC's regular substation inspection and maintenance program.
REC maintains a mobile substation in case a substation would have a major outage. This mobile substation can be set up at any substation location very quickly. The mobile substation was also tested as part of the substation maintenance program.
In the past year, REC electric line crews spent considerable time updating about seven miles of REC power lines in areas with active bird populations in an effort to make power lines more "avian friendly."
September brought some headaches to both the electric system and the fiber system of Ciello with a fall storm (see photo above) with more than 12 inches of snow and wind gusts up to 80 MPH. This storm event caused outages across the Valley. Crews and employees worked together to restore electric and Internet services as quickly as possible but given the widespread nature of the storm, it took three days to get everyone's services restored.
Ciello continued to grow throughout 2020 with more than 650 miles of fiber built out and 88 wireless antennas deployed. Ciello now passes more than 13,000 homes and businesses and has more than 5,600 subscribers to Ciello Internet and phone services.
Fiber was built throughout the town of Saguache and in various parts of Alamosa (see photo above right).  
Reliability of Internet and phone services has become as crucial as the electric system. Working to improve the Ciello core network, authentication protocols were converted to a more reliable system known as Dynamic Host Configuration Protocol (DHCP) replacing an older system.
The spread of COVID-19 took its toll on everyone's daily routines in 2020 and REC was no exception. REC offices were shut down in late March until early June during which time employees worked remotely or with minimal contact. Ciello went above and beyond to get Valley residents and students connected providing students with the ability to attend classes online (see photo above) and many residents to work remotely.
REC Board of Directors approved additional measures to aid REC members struggling to pay their electric bills due to the pandemic.
As part of an ongoing rate education and stakeholder engagement process, SLV REC conducted a customer satisfaction survey among members this past summer and a series of residential focus group meetings this fall. Reports from both can be found online at www.slvrec.com/about-us. Ongoing member education has become a regular effort continuing into 2021 with an agriculture/commercial member focus group.
While many 2020 activities were put on hold, REC employees took part in school career fairs early in the year and helped sponsor several local events. In 2021 the co-op will continue to support Valley communities with economic development and community involvement.
With the challenges of 2020 in the rear view mirror, REC and Ciello are looking ahead to 2021 and will continue to improve the reliability of both the electric system and the broadband system.
We hope you have a healthy, positive and prosperous 2021!