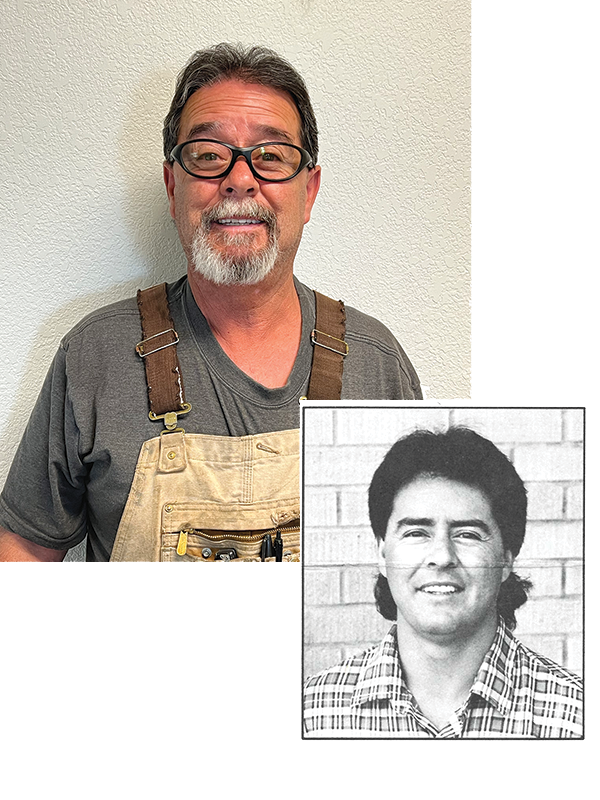 Glen Archuleta finishes up 30-year career at REC
"I was somewhere out in the boondocks—lost— looking for a meter outside of Jaroso. I found my way eventually but was way off schedule by then. Ruben [Heredia] and Joanne [Self] didn't hesitate to help me finish the route. We got back into the office after 8 p.m. that night. That's the kind of things I'll always remember about REC; we were family!" REC employee Glen Archuleta reminisced.
Glen hit his 30-year anniversary on July 13 and retired the next day, finishing up a career with REC that has spanned three decades. Glen began as a meter reader in 1992 making about $6/hour. He made dozens of memories traveling the Valley and met many friends along the way.
He fondly remembers spending several cold winter days above Creede reading meters with Ruben, often getting the snow machines stuck. Glen recounts numerous times of snowshoeing in the Ponderosa area then having to dig down to read the meters through feet of snow. He enjoyed doing this for 18 years.
Oftentimes he would finish up his route early and head to the mechanic shop to help out. This eventually led to a dual-duty position in February 2011. He would spend two days/week reading meters and two days/week working as a mechanic helper. As meters became fully automated, Glen fully transitioned to the mechanic shop in November 2011. He's been repairing tires, performing services and chasing parts ever since.
Glen has worked under three CEOs during his tenure, but recollects a special memory of his first CEO, Chuck Archer. He had been in an accident and was out of work for a while; Chuck gave him a week of his own PTO to make sure he would be taken care. Then a week later, Glen's mother passed away, and Chuck gave him another week of his PTO. This is a memory that Glen will always keep with him and appreciate. Another memory was more recent. "My REC brothers and sisters came and split wood for me this past winter while I was sick; that was special," he said.
After retiring, Glen plans to spend more time welding. He has helped his brother on some metal art pieces, as well as done some of his own and hopes to expand that hobby. He's currently working on a cool dolphin project for a former coworker and is proud of an eagle piece he completed as well. "Retirement is scary; it might be better, and it might be worse, but I'm ready for it. I hope to stay busy with my welding and spending time with my family," he stated.
Glen was born and raised in Monte Vista; his wife, Teresa and he share three grown children: Glen Jr., Ashly and Heather as well as six grandchildren (plus twins on the way).
In his parting words, Glen says, "I will miss all the people I work with; that's the best part of being here. I love you all and God bless you and your families."
Good luck in retirement, Glen, REC will miss you!