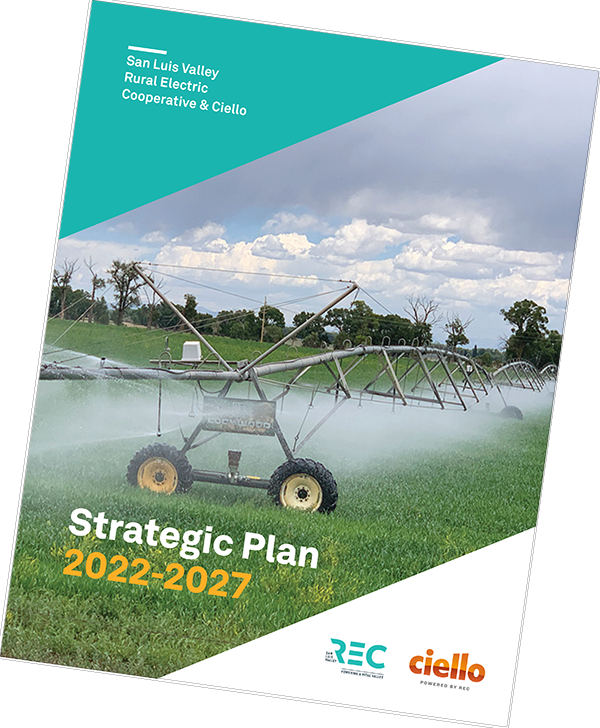 Doing what's important
By Loren Howard
Almost every organization has some sort of plan for the future whether that is tomorrow's tasks, next week's agenda, a monthly schedule or next year's goals. This is often called "Strategic Planning" which sometimes results in a nice 2-inch document that sits on the shelf only to be picked up again when someone remembers "Don't we have a Strategic Plan?" So, years ago I attended a training on developing "Strategic Plans" and the presenter proposed calling it "Strategic Doing." I found that useful and have tried to make any planning sessions have a very actionable outcome.
REC Board of Directors sat down last year and developed a plan for the next two years with four strategic areas of focus – Workforce, Reliability, Financial and Communication. In each of these areas, staff and directors identified three or four business goals which are the actionable goals to accomplish in the next two years.
In the area of workforce, the business goals identified are:
Hire a new CEO by Q1 2023
Workforce development – leadership and technical training
Build a plan to promote the community and culture
Continue a competitive compensation program
I am going to pause there for a few words and write about the first bullet point.
In November of 2011, I came to work for REC as the Chief Executive Officer. When I was hired, I told the Board that I would stay for 10 years. Doing the math, this coming November will be 11 years, so the time has come for me to retire, as I like to say, "for the third time." This writing is really the first public acknowledgment of my intent to retire from REC.
At the end of July, the Board of Directors will be selecting a firm to find and hire a new Chief Executive Officer. This process will take a few months, so the expectation is that by February 2023 a new CEO will take over the leadership of REC. In the coming months, I will reflect a bit more on my time with REC, but for now, enough.
Finishing the other business goals in the strategic area of workforce, REC's workforce development has many tracks including several apprenticeship programs. About five years ago, employees of REC developed a community engagement program which is called "Small Groups." All REC employees are a part of a small group of about nine employees, and each group has an annual goal to work on a community project. Groups have helped construct playground equipment for communities, assisted at food banks and even visited children in hospitals. Even before the "Small Groups," REC has given time and money to communities in the San Luis Valley.
The last business goal of competitive compensation is very important, as hiring and retaining employees in the electric utility industry is very competitive. REC has to compete on a national level for most of the positions. If compensation is not on par with at least other Colorado electric utilities, employees can easily find work anywhere in the state.
Next month, I will address another of the strategic areas identified by the Board's work and the business goals associated with it.