"I thought the meeting was as successful as it could be under the circumstances, but I will be looking forward to our normal annual meetings." ~K. Cole Wakasugi
The annual meeting on June 9 may have had a different look this year compared to previous years in light of the COVID-19 pandemic, but that didn't stop the board from taking care of business.  
SLVREC released its 2019 financial results and certified the re-election of two positions on the Board of Directors during the annual meeting. Unopposed incumbents K. Cole Wakasugi, Costilla County (district 2) and Scott Wolfe, Alamosa County (district 4) will both serve another four-year term. The virtual business meeting was held through Zoom with members having viewing capabilities.
The member appreciation dinner typically held with the annual meeting was cancelled due to the COVID-19 pandemic. An open house membership meeting was held in its place to allow for meeting and prize registration, as well as in-person voting. All social distancing requirements were adhered to. Prize winners were notified the following day (those names can be found online at slvrec.com/annual-meeting).
The virtual meeting began with an invocation by REC's Chief Technology Officer Monroe Johnson, followed by an introduction of the board and staff by Vice President Keenan Anderson. REC Attorney Gregg Kampf announced the determination of a quorum with 70 members registered during the open house membership meeting. Minutes from the 2019 annual meeting were approved and the 2020 scholarship recipients were recognized.
Chief Executive Officer Loren Howard presented the executive report discussing some of the larger projects both the electric and broadband systems have done this past year. These include the move of three additional substations to the SCADA system, rebuild of five miles of power line for better avian protection, completion of the tri-annual Rural Electric Safety Accreditation Program and the continued replacement of underground power lines in the Baca.
Major telecom projects in 2019 included the completion of the Spring Creek and west side of Monte Vista buildouts, upgrade of wireless connectivity to fiber in Center and a preliminary fiber design for the town of Saguache.
In addition, Loren reviewed Tri-State's Responsible Energy Plan, highlighting the plans to reduce emissions and increase clean energy. Also discussed was the member rate complaint and subsequent settlement agreement. He closed the executive report by answering members' mailed-in questions. See questions/answers here.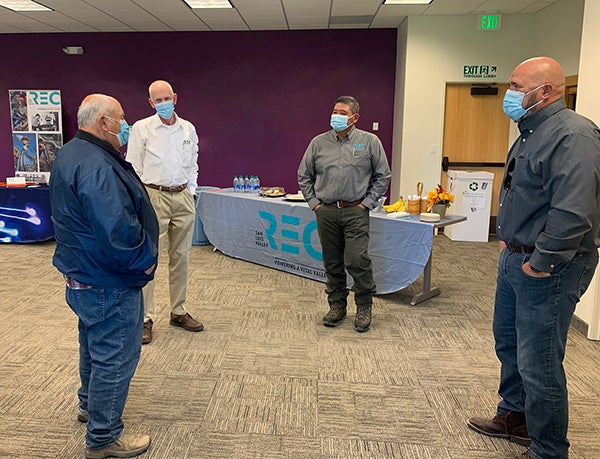 A member talks with CEO Loren Howard and Board Directors Cole Wakasugi and Scott Wolfe during the open house membership meeting.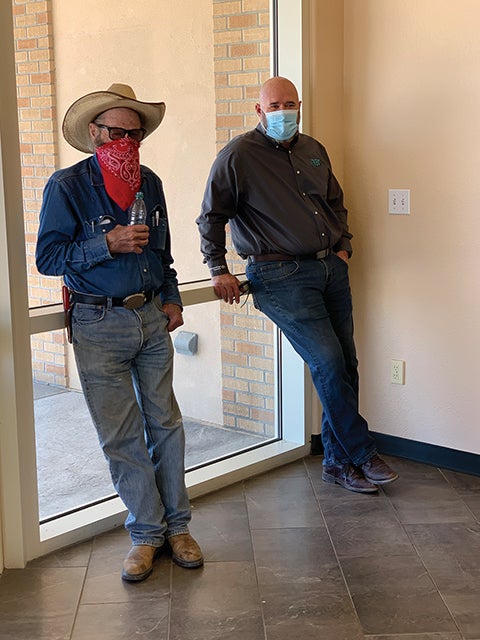 Members had the opportunity to talk with board directors during the open house membership meeting.