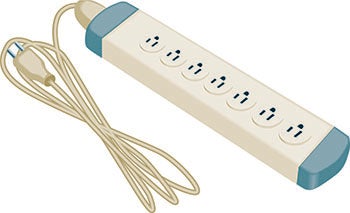 Tips offered to save energy while in quarantine
With the latest social distancing extension put into place on Sunday by the President, more time will be spent at home, which means more electricity usage.
There are many things members can do to save energy:
• Use natural light by opening blinds/window coverings rather than turning on light fixtures or lamps. This can also help warm your home.
• Plug laptops, big screen TVs and gaming systems into a power strip; turn off the power strip when not in use.
• Turn the brightness down on your TV and computer screens.
• Use smaller screens, such as tablets, to stream media.
• Place computers into sleep mode.
• Unplug small appliances when not in use.
• Keep the thermostat steady; adjusting constantly can consume a lot of energy.
• Limit dishwasher usage, only running when full.
• Minimize opening and closing the refrigerator.
• Cook more efficiently by covering pots/pans with lids.
• Use microwave for reheating small portions, rather than the stove or oven.
• Use your outside grill whenever possible to cook meals.
• Change air filter in your heating system.
• Turn off lights and ceiling fans when not in use.
• Try to limit showers to seven minutes.
• Dry lighter-weight clothes in a separate load from towels and heavier materials.
 
During these trying times, REC has temporarily suspended service disconnections. In addition, while bill assistance has always been provided to help REC members in need, now businesses and members impacted by government mandated closures are receiving additional assistance. Members struggling to pay their bills can reach REC at 719-852-3538 or 800-332-7634 during normal business hours (Monday-Thursday, 7 a.m. to 5 p.m.) or by email at power@slvrec.com to discuss payment arrangements.
Bill pay options:
Members can pay their bills online through SmartHub (slvrec.smarthub.coop, by phone (877-760-7468), at the drop box outside of REC headquarters (3625 US Hwy 160 W in Monte Vista), by mail (PO Box 3625, Monte Vista, CO 81144), as well as at the following local bank branches: First Southwest Banks, Community Banks and Del Norte Bank.
(Resources: bakersfieldnow.com, northsidesun.com)